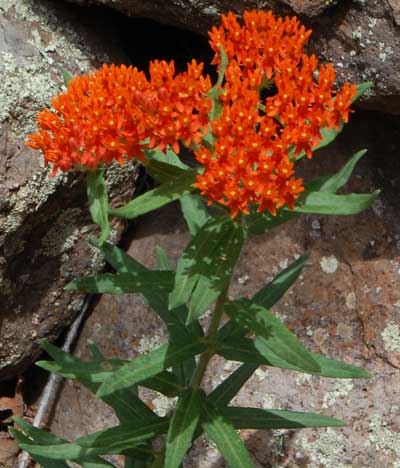 Photographed on Pine Mountain in the Pine Mountain Wilderness Area, Yavapai Co., Arizona, USA. 07 June 2009.
Sponsored Links:
FLOWERS: Brilliant orange or sometimes more yellow flowers in flat topped clusters at top of plant. Avidly visited by butterflies giving this plant another common name Butterfly Milk-Weed.

LEAVES: Dark green, elongate to elliptic leaves are alternate or opposite on the stems. The leaf margins are smooth. Milky, toxic sap emerges at once from breaks in stems or leaves.

PERENNIAL: One to several herbaceous stems grow in a clump. Most plants are less than one meter tall.

RANGE: The range of this plant in Arizona's ponderosa woodlands is spotty and may have been augmented by human settlers transplanting efforts. This plant ranges through eastern North America where it is fairly common in semi-open woodlands and prairie situations.

FRUIT: Pairs of pods develop and are oriented upwards. At maturity the pods split open to reveal many comose seeds.

UNARMED. Without thorns, but sap can be an irritant.
Apocynaceae (incl. Asclepiadaceae) -- Milkweed Family
More Information:
Sponsored Link: