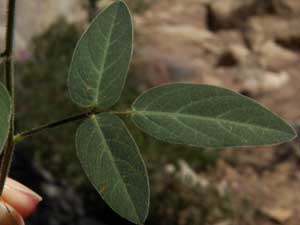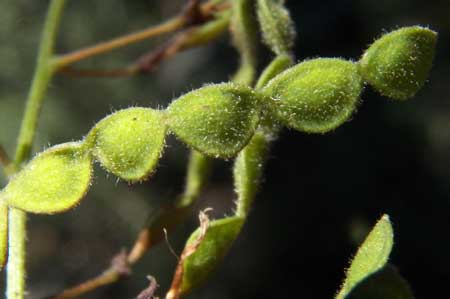 Observed in the ponderosa woodlands of Granite Mountain Wilderness, Yavapai Co., Arizona, USA. September 2012.
Sponsored Links:
FRUIT: The small bean pods are coated with sticky hairs and readily break into individual bean-segments which then can hitch a ride on clothing of fur.

FLOWERS: Dark pink or purplish pea flowers are small and borne in short spikes.

LEAVES: The leaves have three leaflets, i.e. trifoliate.

PERENNIAL: Re-grows for several seasons from a woody crown. Herbaceous upper portions are slender-stemmed and often supported by other plants.

RANGE: Found in montane meadows and forest throughout much of southwestern United States. There are a number of similar species of Desmodium.
Fabaceae -- Bean Family
More Information:
Sponsored Link: