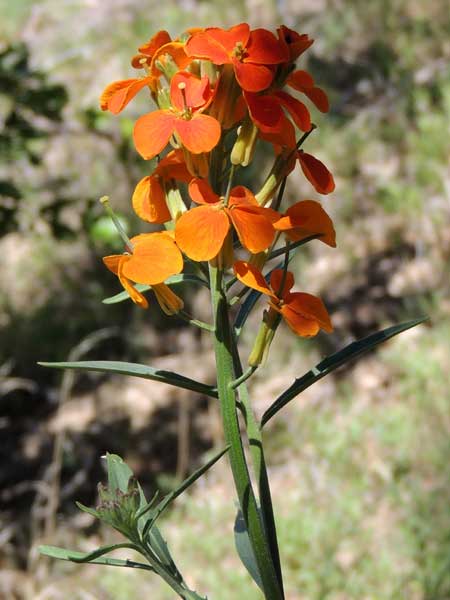 Observed on a sandy embankment along Workman Creek, Sierra Ancha, Gila Co., Arizona, USA. 1 June 2014.
Sponsored Links:
FLOWERS:

Bright orange to yellow flowers with four large petals and a conspicuous stigma rising above the floral center. Four petals, four sepals and six stamens. Blooming mid to late spring. Attractive to butterflies.

RANGE: Found on upper slopes in the desert mountains as well as in transition to chaparral and piñon/juniper habitats. More common at the higher elevations. Also found throughout the western United States with several recognized varieties/subspecies.

BIENNIAL HERB: Herbaceous plant blooming in second year on meter tall spike. During first year of growth majority of leaves are in a cluster at ground level: basal rosette.

LEAVES: The lower basal leaves tend to be oblong whereas those on stem above may be more linear. Leaf margins sometimes toothed.

FRUIT: Long, four-sided or slightly flattened pods are oriented upwards.

UNARMED.
Brassicaceae -- Mustard Family
More Information: