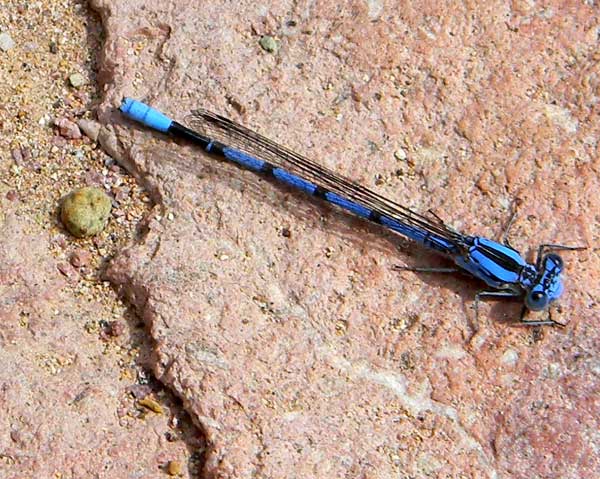 This male damselfly was observed near a temporary pool in Garfias Wash, Heiroglyphic Mts., Yavapai Co., Arizona. March 2010.
Coenagrionidae -- Pond Damselfly Family
Among the gems that can be found at the margins of small ponds and pools of water in the Sonoran Desert are the bluet damselflies. The larval stages are important predators in the aquatic invertebrate community. As adults they flit gracefully close above the water surface or very nearby, where again, they serve as predators. There are a number of similar blue-colored damselflies and identification usually requires very close inspection of patterns and anatomy.
The Apache Dancer, Argia nahuana, and the California Dancer, Argia agrioides are virtually indistinguishable without capture of the male and magnification of the terminal abdominal appendages. In spring, weeks after a rainfall, canyons often have intermittent flowing water which soon become separate pools of water that shrink with each day. They are havens for aquatic insects of many, many kinds.
More Information: