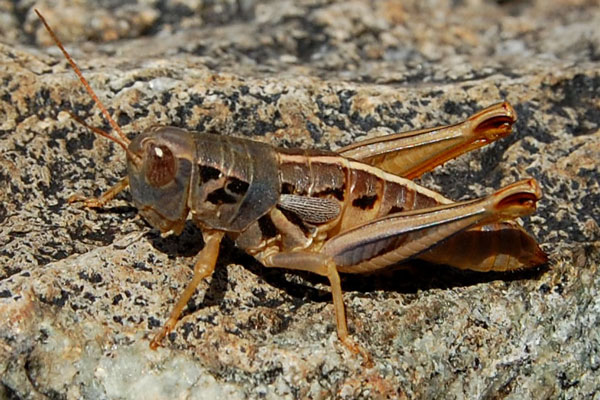 Observed in Black Canyon, Yavapai Co., Arizona. Identification was verified by David Ferguson
Acrididae -- Short-horned Grasshopper Family
Many species of spur-throated grasshoppers (s.f. Melanoplinae) inhabit the Sonoran Desert. The name arises from a spur structure on the venter between the head and thorax (not visible in photo here). Barytettix humphreysii is unusual in having very short wings that make it incapable of flight. The massive head is in part due to powerful muscles that operate the mandibles. The specimen at left was found feeding on leaves of Jojoba (Simmondsia chinensis) - a plant with very tough leaves. Other species of melanoplines are excellent fliers and sometimes are mass-migrators covering 100's or 1000's of kilometers similar to locust grasshoppers.
The base colors of Humphrey's Spurthroat encompass much of the color spectrum. Brown is frequent, but examples in yellow, blue and green can be found. This may be related to the plant species upon which the hoppers are feeding. It might be that the colors can be aposomatic - warning that toxic compounds derived from the host plant have been sequestered and could make a bird or other predator sick.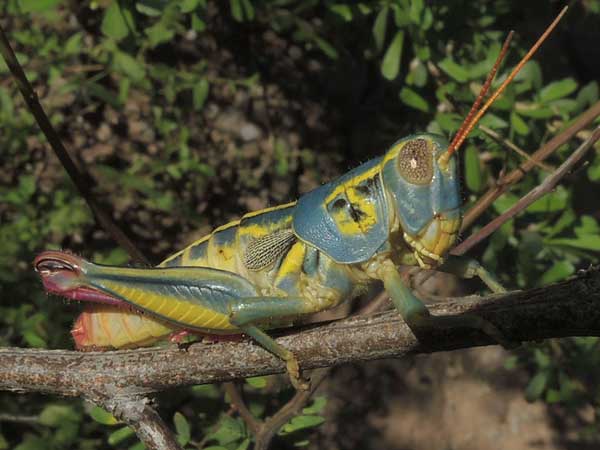 Observed in Guaymas, Sonora, Mexico. 9 Sept. 2017. Feeding on leaves of mesquite (Prosopis).
More Information: