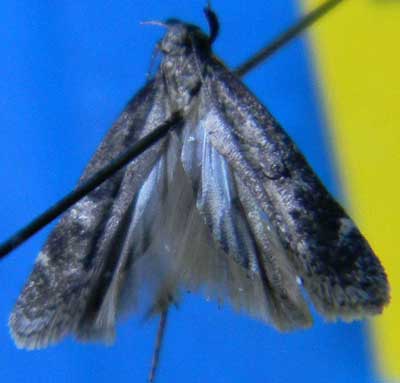 This moth is quite small, less than 1.5 cm wingspan. It is supported on an insect pin. Reared from larva found in Rainbow Valley, Maricopa Co., Arizona, USA. May 2010.
Gelechiidae -- a Moth Family
Through the much of the year Foothills Palo Verde (Parkinsonia microphylla) is without leaves. Only in spring and after adequate summer rains does new growth and fresh leaves appear. Depending on weather, these leaves are eventually shed leaving green twigs and branches to conduct photosynthesis. Just before the leaves fall off great numbers of this web-spinning moth's caterpillars may become noticeable with their glistening silk. Within these small tents they devour the leaves.
More Information: