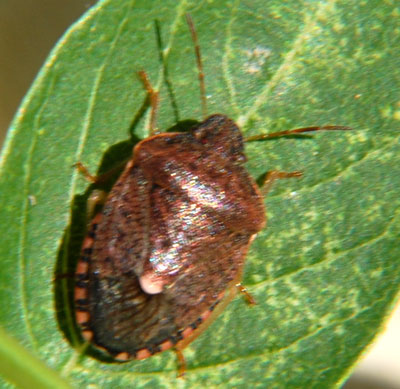 Observed feeding upon developing seeds of Velvet Ash (Fraxinus velutina) along Fish Creek Canyon, Superstition Mts., Maricopa Co., Arizona on 01 May 2009.
Pentatomidae -- Stinkbug Family
Sometimes a photograph is sufficient to identify an insect to species. However, more often than not, more information is needed. Habitat information can be very useful - the specimen at left was found in a riparian canyon along the northern flanks of the Superstition Mountains, Maricopa Co., Arizona. Also the size of the insect should be given if a scale ruler is not included in the photo - this brown stink bug is about 8 mm long. Host information can also be useful in narrowing down the identification of an insect or bug. Even still, most entomologists will be hesitant to give a definitive answer without having access to the specimen and placing it under their microscope.
More Information: