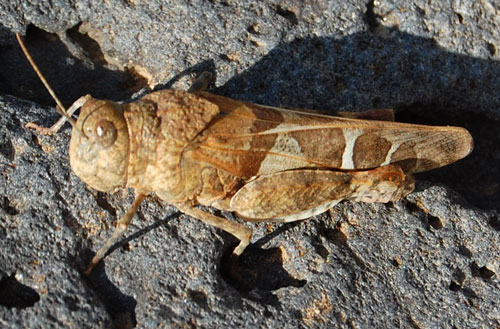 This grasshopper was found chewing the very tough leaves of Jojoba (Simmondsia chinensis). Location was Black Canyon, Yavapai Co., Arizona on 29 Sept. 2008.
Acrididae -- Grasshopper Family
Like most insects, adult grasshoppers have two pairs of wings. The first pair is tough and leathery; these protective, covering wings are called tegmina. The tegmen hide and protect the second pair of membranous flight wings. The flight wings of this species are blue - the blue color is revealed when the insect takes wing. The Blue-winged Grasshopper is fairly common in the upper elevations of the Sonoran Desert, but numbers vary considerably from year to year. Mature adults appear by late summer. Population levels are very dependent on the quantity and distribution of summer monsoon rains. They feed on a variety of plants.
More Information: