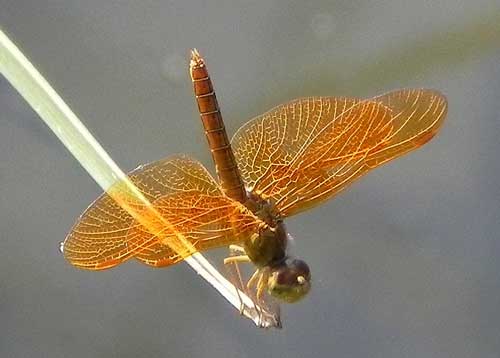 This dragonfly image was captured by Robert Witzeman at Gilbert Water Ranch, Gilbert, Arizona, USA. June 2010. The temperature was about to 43°C - in order to reduce insolation this Mexican Amberwing is obelisking - orienting the long axis of its body towards the sun. Robert leads several Odonata field trips for Maricopa Audubon Society each year.
Libellulidae -- Skimmer Dragonfly Family
Mexican Amberwing is a small to medium-sized, common dragonfly of stream and pond margins in the Sonoran Desert. Body and wings are golden brown. Adults are on the wing from April through November capturing small, winged insects for food. This skimmer is found in semi-arid regions from California to Texas. The immature stage is a predatory aquatic insect.
More Information: