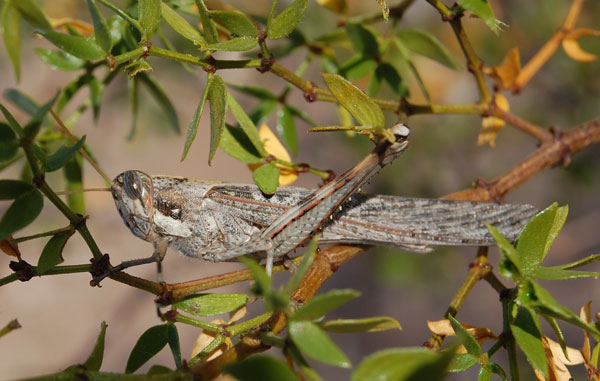 Observed on Painted Rock Mountain, Maricopa Co., Arizona, 01 Nov 2008. It is sitting in Creosote Bush.
Acrididae -- Grasshopper Family
The bird grasshoppers, besides being very large grasshoppers, are also excellent fliers like birds. Notice the length of the wings in the specimen at left. Indeed Schistocerca can be migratory. As the desert environment changes from dry to wet and then back to drought again these grasshoppers move accordingly. After the bountiful summer rains of 2008, this, among other grasshopper species, have migrated to the cities in search of tender plants. At night they can be seen circling under flood lights over parking lots.
Sponsored Links
More Information: