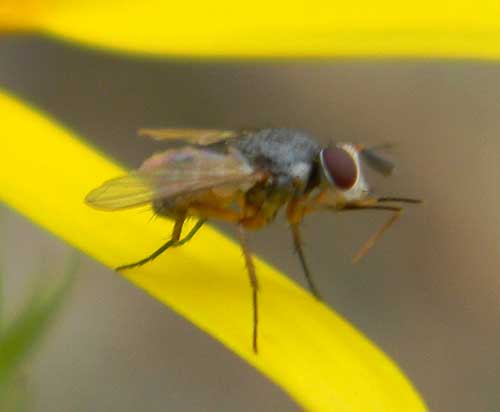 This fly is only about 3 mm in length. It is alighted on a ray floret of Sand Wash Groundsel (Senecio flaccidus). Wickenburg Mountains, Yavapai Co., Arizona. 19 Dec. 2010. Bugguide volunteers made identification possible.
Tachinidae -- A Parasitic Fly Family
This tiny fly is an example of the complex web of life that the biota in the Sonoran Desert represents. As a member of the family of flies known as tachinidae we know that as a larva it is parasitic on some other arthropod, most likely a caterpillar fo a butterfly or moth. That relationship is not known well if at all.
Now, the next mystery is that both the flower and the fly are a bit out of season. December can be quite cold in the Sonoran Desert, with temperatures below freezing on many nights and with warmer, active temperatures for just a few hours each day. Both the plant and the fly, it would seem, have some survival advantage by being active during cold weather. For one, gnat-eating birds and lizards are scarcer. From the plants point of view, there might be fewer flower-feeding caterpillars. The dynamics of these relationships might hold interesting ecological puzzles.
These are flower-loving insects and are probably very important pollinators and thus key species in the ecosystem. They should not be poisoned or destroyed.
More Information: