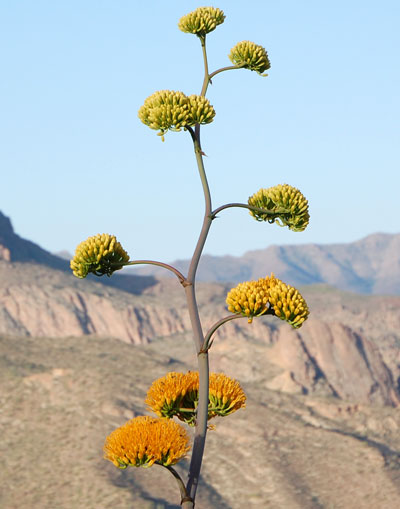 Goldenflower Century Plants were blooming in abundance along the Apache Trail, e. Maricopa Co., Arizona on 30 May 2009.
Sponsored Links: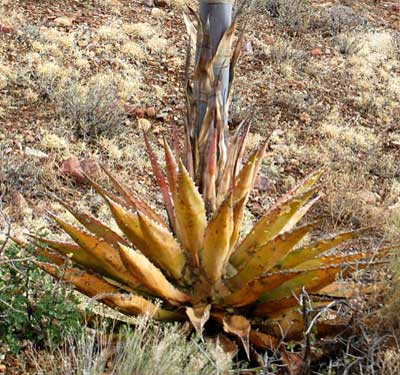 After flowering and as the fruit and seeds develop the base plant begins to yellow and senesce. Most plants have reproduced vegetatively at this point via pups, shoots arising from the underground stems. 24 July 2011 on the western flanks of the Mazatzal Mountains, Maricopa Co., Arizona.
SUCCULENT: The long tapered leaves are stout with spines along the margins, a stout spine at the leaf tip, and leaves clustered all at ground level. Before flowering the tips of the leaves can reach almost a meter tall.

ARMED: Sharp spines at leaf tips and shorter spines along leaf margins.

LEAVES: Long, tapered, blade-like leaves are disposed just above ground level and are thick and succulent.

RANGE: On rocky terraces high above most of the Upper Sonoran Desert and more abundant in transition to desert grassland and piñon/oak/juniper.



FLOWERS: Towering stalks of golden yellow flowers set in broad, flat panicles supported on side branches from the 6-meter tall main stalk. Blooming late May and June. After blooming the plant dies, but is usually succeeded by one or more vegetatively propagated pups. Growth before flowering takes years, but not usu. anywhere near a century.

FRUIT: Five-centimeter, oblong fleshy capsules with three valves.
Many of these grand plants play host to a small sucking bug called Caulotops barberi. Their feeding leaves darkening spots where sap from the pin-prick injuries oozes out.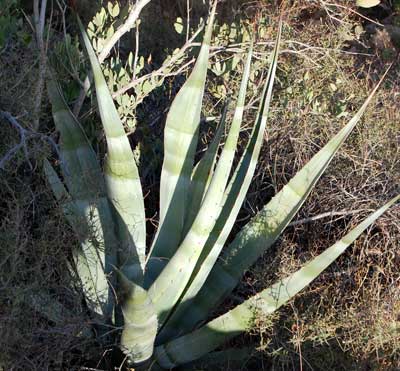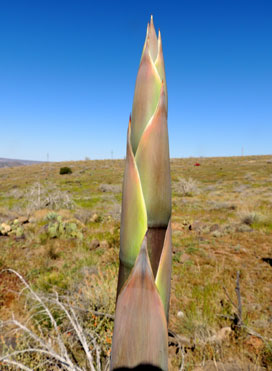 Agavaceae -- Agave Family
More Information: