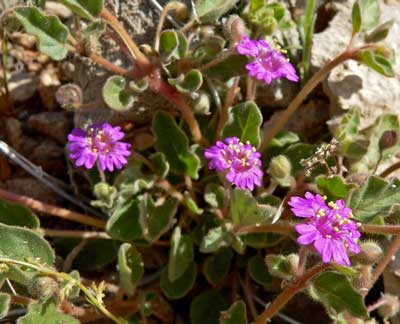 This photo was taken just outside Red Rock Canyon, Nevada, April 2005 by Wikimedia User:Stan Shebs.
SPRING ANNUAL: Begins blooming mid spring. Some plants may survive into summer blooming some more after summer rains. Usually grows along prostrate on ground, appearing vine-like.

LEAVES: Leaves and stems are all covered with sticky, glanded hairs. Simple, opposite leaves are mostly heart-shaped.

FLOWERS: Each 'flower' is a cluster of usually three flowers grouped together by short bracts. The perianth is magenta-pink. Blooms mid spring and spradically through summer and fall, moisture depending.

FRUIT: Small, flattened, odd-looking achenes, 4 mm, with edges curled.

RANGE: Common along sandy washes in Sonoran Desert.

UNARMED.
Nyctaginaceae -- Four O'Clock Family
Sponsored Links: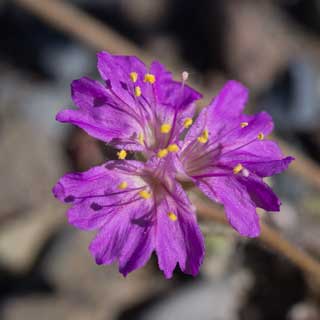 This photo was taken by Allan Ostling in Rackensack Canyon northeast of Phoenix on 26 Oct. 2013.
The three florets composing the inflorescence are easy to see.
More Information: