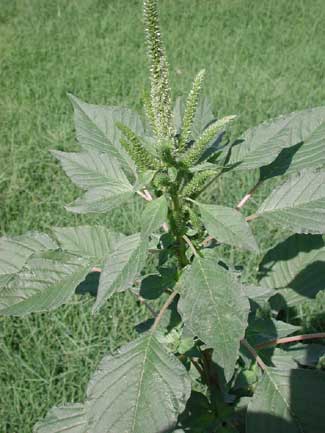 Photographed in Peoria, Maricopa Co., Arizona. July 17, 2004.
This robust weed begins growth with the warm temperatures of mid-Spring and with adequate water. It is abundant on irrigated grounds in the hot cites of Southern Arizona. The airborne pollen can cause hay fever and is also known as carelessweed.
SUMMER ANNUAL: When water is available during hot weather this herbaceous weed grows rapidly and can reach over two meters in height..

FLOWERS: Minute, green flowers are densely packed on a spike. When pollen is abundantly released the yellow powder is apparent.

FRUIT: Small nutlets enclosed by papery bracts.

LEAVES: The diamond shaped leaves have distinct veins and may have purplish markings.

UNARMED

RANGE: The range has extended through much of the USA from the southwestern states because it does so well in agricultural settings as a weed.
Amaranthaceae -- Amaranth Family
Sponsored Links:
More Information: