Drawn from live specimen found in near Cave Creek, Maricopa County, Arizona.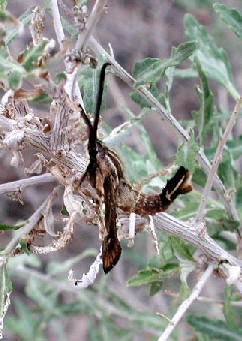 Bursage Borer -- Hymenoclea palmii The caterpillar of this odd-looking moth may be found tunneling through the stems.
FRUIT: Typical bur-sage burr is densly woolly - shown enlarged at right.

SHRUB: A medium-sized shrub most always less than 1 meter. Young stems are hirsute, but older ones are light gray with brown striations.

LEAVES: Coursely toothed leaves emit a very pungent odor when crushed.

RANGE: Upper Sonoran Desert in northern Maricopa and Yavapai Co., Arizona and hence westward into portions of the Mojave Desert of California, Nevada and Utah. Scattered populations in Pinal & Gila Co., AZ.

FLOWERS: Greenish and in smallish heads on spikes. Many flowered male heads above the 1-2 flowered female heads.

UNARMED.
Cattle generally avoid eating this plant

and it one that can become abundant on overgrazed land. The Ambrosia Leaf Beetle, however, feeds almost exclusively on this and related Ambrosias.
Asteraceae -- Sunflower Family
Sponsored Links:
More Information: