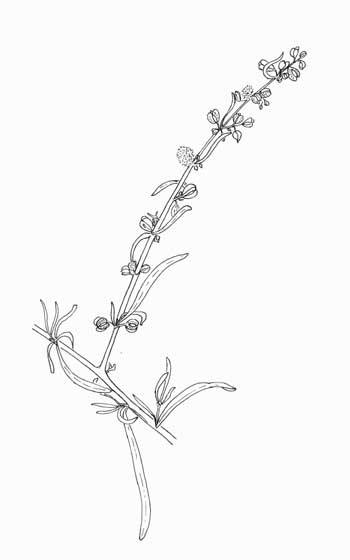 ---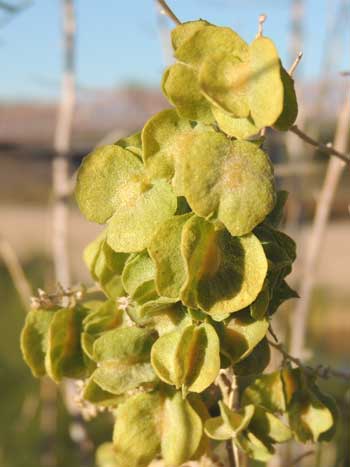 Mature seeds, each with four papery wings. Along the New River, Peoria, Maricopa Co., Arizona, USA on 25 Nov. 2018.
FRUIT: Three or four, vertical papery wings enclose a single-seeded achene. An abundance of these winged seeds on upper branches eventually turn a golden brown and rustle in the breeze.

LEAVES: Grayish-green leaves are linear or spatulate (wider towards tip) and 2 to 4 cm long. Scaly hairs impart a mealy texture.

SHRUB: A medium to large rounded shrub with distinctive gray-green, salty leaves.

RANGE: Common through much of the Sonoran Desert in Arizona especially near rivers and areas that are occasionally flooded (e.g. bolsons, salt pans). The preferred soil type is silty with alkali or salt content.

FLOWERS: Spikes of greenish-yellow male flowers are borne above the clusters of greenish female flowers which only become apparent once the seeds begin development. Pollen becomes airborne and may be of concern to hay fever sufferers.

UNARMED.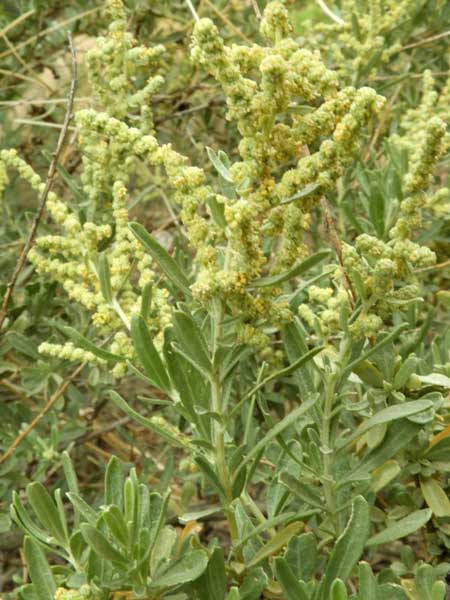 The flowers occur in dense panicles and can produce abundant pollen. Sierra Vista, Cochise Co., Arizona, USA on 14 July 2018.
Amaranthaceae (includes Chenopodiaceae) -- Goosefoot Family
Sponsored Links:
More Information: