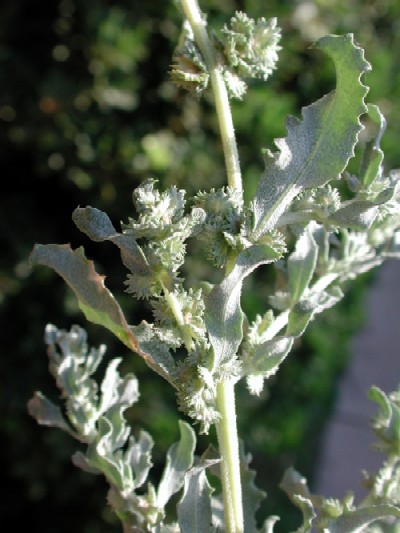 Photographed along waste ground adjacent to an irrigation canal in Phoenix, Arizona, USA in June 2007. A full resolution version of this photo is hosted at Wikimedia where there are additional images of Salt Bush species.
RANGE: Abundant on vacant city lots, fallow farm fields and occasionally in natural riparian habitats in the Sonoran Desert. Ranges from Texas to California in the USA. Generally on damp or saline soils.

LEAVES: Alternate, elliptic leaves are silvery-scurfy and the margins are wavy toothed.

SEEDS: Small seeds inside a flattened wheel or ring with a serrate margin.

PERENNIAL: A perennial herb with a slightly woody crown, mostly less than ½ meter tall and forming a clump a meter or so in diameter with many stems. Grows most vigorously from mid spring through late summer and fall.

FLOWERS: Greenish flowers are not showy and may produce some allergenic wind-blown pollen.

UNARMED.
Chenopodiaceae -- Goosefoot Family
Sponsored Links:
More Information: