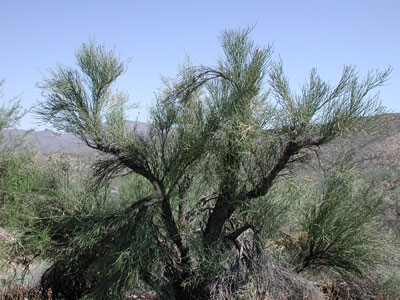 Photographed in the Wickenburg Mountains, Yavapai Co., Arizona. Sept. 2008.
Sponsored Links:
ARMED. The branches end in many, long, sweeping spines. The tips are indeed sharp!

TREE: A small tree or large shrub somewhat resembling Foothills Palo Verde (Parkinsonia microphylla). Even from a distance, however, the naturalist will recognize canotia's distinct structure of sweeping branches and stems. The color is a blue-green due to the leafless, photosynthetic stems. Older branches and trunk have deeply fissured and fibrous bark.

LEAFLESS: The leaves are reduced to small dark scales. Small and medium-sized stems are green and conduct photosynthesis.

RANGE: Fairly common along the northern tier of the Sonoran Desert in Yavapai, n. Maricopa and Pinal Counties, Arizona. Infrequent or absent south. A few in the Ironwood National Monument and in Sonora, Mexico. Not found in any other USA state. Common in transition to chaparral habitats just above Upland Sonoran Scrub.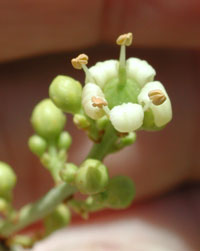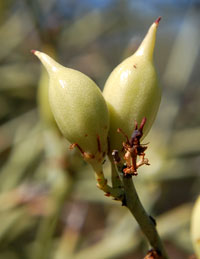 FRUIT: Dry, woody capsules split open from tip along five sutures to reveal several seeds. The dry capsules can remain on the plant for several years. The tips of the fruit are nearly spine-like as seen in close up at right.

FLOWERS: Small greenish-white flowers, shown enlarged at right, in small panicled clusters. The stamens alternate with the petals.
Celastraceae -- Bittersweet Family
More Information: