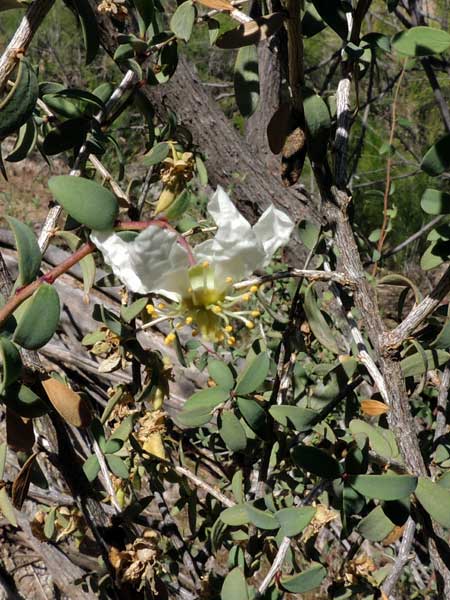 Along side the trail into White Canyon Wilderness, Pinal Co., Arizona. 30 March 2014.
A related species, the common Ragged Rock Flower, is found in the Arizona Sonoran Desert. Follow the thumb link above for more information.
RANGE: In Arizona an isolated plant or population exists in White Canyon, Mineral Mts., Pinal Co., Arizona. Otherwise this is an uncommon plant in coastal California and on Catalina Island.

UNARMED


SHRUB: Flexible branches are usually straighter, less crooked, than those of C. bigelovii.

FLOWERS: Showy, often fragrant, white flowers with five petals. Blooms early in year, usu. Jan. to Mar. The petals are rounded with a less exagerated claw or base.

FRUIT: 2 to 5 erect, separate ovaries develop from each flower. Later, these mature into dry capsules each with several seeds.

LEAVES: More round than those of C. bigelovii. Rather thick and leathery.


Family: Crossosomataceae
More Information: