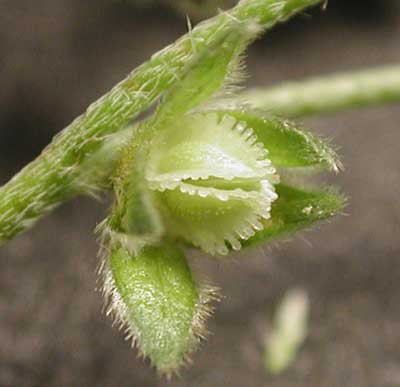 Enlarged view of fruit showing four nutlets which have a toothed wing. Photographed in Maricopa Co., Arizona. March 17, 2008. I have contributed a higher resolution image of C. pterocarya nutlets to the Wikimedia Commons.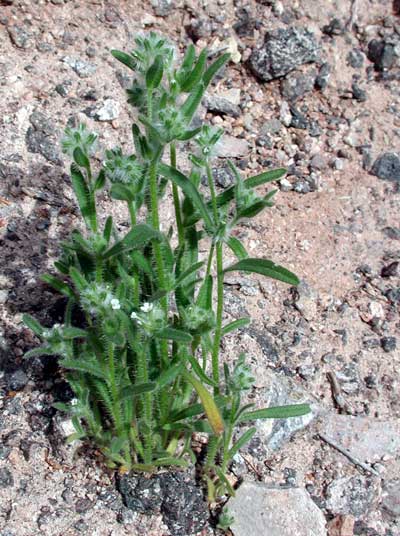 This flowering specimen was found at Vulture Peak southwest of Wickenburg, Arizona.
FRUIT: Four nutlets each with a prominent toothed wing. Otherwise the plant is very similar in appearance to the many other species of Cryptantha in the Sonoran Desert.

ANNUAL: Mid-spring annual normally not more than 30 cm tall. Several to many stems from base. Stems are bristly, strigose. Not apparent in drought years.

LEAVES: Leaves are elliptic to linear and have many long whitish, stiff hairs.

RANGE: Frequent in the Sonoran Desert in Arizona and Mexico. Also ranging into adjacent deserts to east, north and west. Rocky slopes and along washes.

FLOWERS: White flowers are fairly large as compared to other Cryptantha in the Sonoran Desert. Corolla is five-lobed.

UNARMED. No thorns.
Boraginaceae -- Borage Family
Sponsored Links:
More Information:
Sponsored Links: