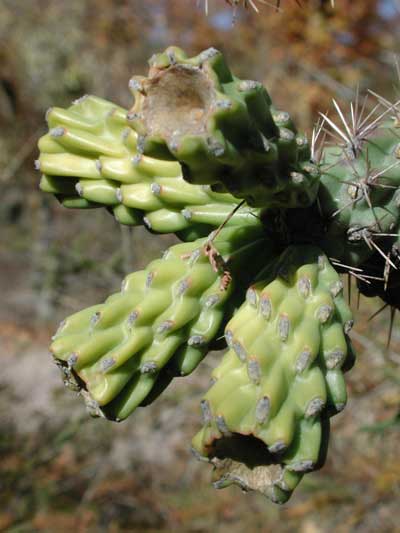 Nearly mature fruit of Cane Cholla, Cylindropuntia spinosior, from Gila Co., Arizona, USA. This photograph is also hosted at Wikimedia where you can find more resources about chollas.

SUCCULENT: Spiny cactus with long, straight, thick joints with prominent tubercles. Large specimens up to three or more meters tall are not uncommon.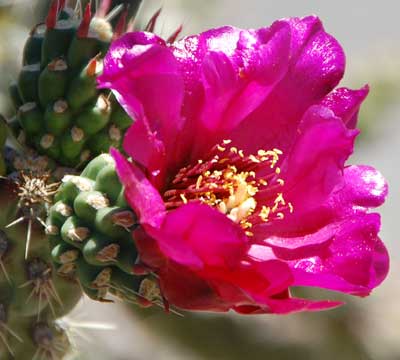 FLOWERS: Magenta/Pink. Sometimes yellow to greenish. The flower at right was observed at Oak Flat in Pinal Co., Arizona on 4 June 2011.

SPINES: Roughly a dozen or so tan to gray spines at each areole. 1-2 cm. long. Few if any large spines on the fruit.

LEAVES: Fleshy linear leaves appear on new growth in the spring, but are quickly shed leaving green photosynthetic joints.

RANGE: Upland Sonoran Desert of Arizona pushing into chaparral and grassland habitats. Hybridizes with other cholla species producing a lot of integrading populations.

FRUIT: Prominent tubercles on fruit and joints. On maturity the fruits become brown and dry.
Cactaceae -- Cactus Family
Sponsored Links:
More Information: