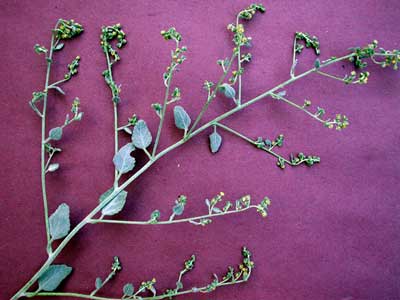 Photographed on the sandy flood plain of the Gila River near Buckeye, Maricopa Co., Arizona, USA. 11 October 2007. This image is also hosted at higher resolution on Wikimedia Project
Sponsored Links:
RANGE: Sporadically common in deep sandy washes or along river flood plains where there is deep, fine soil. Sonoran Desert in Arizona and the Mojave Desert of California.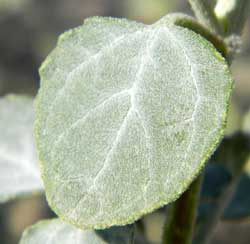 LEAVES: Triangular-ovate leaves are densely canescent due to an abundance of ashy, scale-like hairs that serve to deflect intense sunlight. Crushed foliage and especially the developing seeds emit an intense, unpleasant aroma.

FRUIT: Each flower head usu. has just one female flower which developes into a flattened achene with a lacey margin. At the same time a pair of phyllaries enlarges greatly and loosely encloses the seed in a papery globe.

FLOWERS: Heads are small and numerous; borne in an open panicle. Abundant pollen colors flowers yellow and emerges in yellow clouds when the plants are bumped. A likely cause of allergies, but usu. low in abundance. Flowering late fall into early winter.

SHRUB: A sparse, rather non-descript shrub of sandy areas. Mostly plants are about a meter tall. Resembles some Atriplex saltbush species that grow in the same habitat.

UNARMED, however, the stems and branches develop rather sharp, stiff hairs.
Asteraceae -- Sunflower Family
More Information: