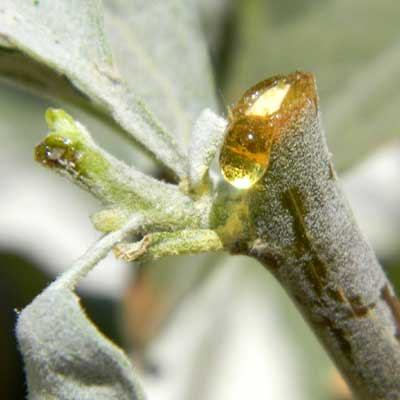 Pruned stems of brittlebush in a xeriscape garden soon begin oozing resin in Phoenix, Arizona, USA. May 2010.
Sponsored Links: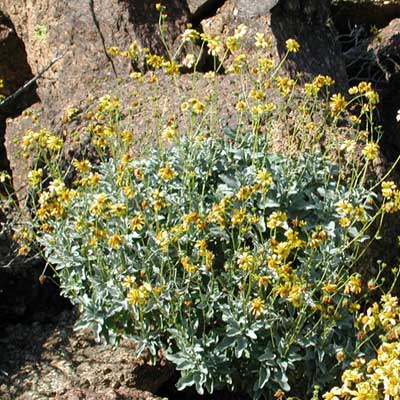 In February 2005 brittlebush in the North Maricopa Mountain Wilderness were ablaze with color after generous winter rains. Maricopa Co., Arizona, USA.
Resin exuding from cuts and injuries serves to keep insects, fungi and bacteria from entering and causing more damage. The acrid taste and aroma also deters herbivores from biting off more. In the early Spanish days the resin globules were gathered up for use as incense, thus a Spanish name Incensio.
Like aphids, lacebugs on brittlebush subsist entirely on a liquid diet. They have piercing-sucking mouthparts that are inserted into the plant tissue and use them to withdraw sap. Presumably they avoid resin channels and take up only nutritious phloem.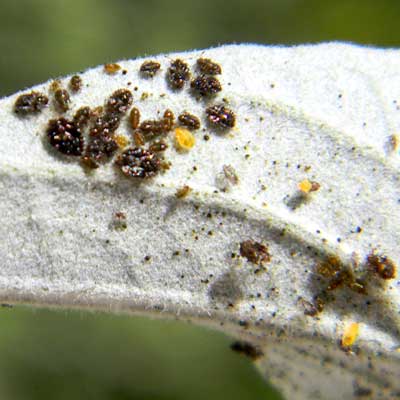 The smallest of these lacebug nymphs are bright yellow. By the second or thrid instar they turn shiny black. Observed in Glendale, Maricopa Co., Arizona, USA. May 2010. Read more about lacebugs ...


Many insects make use of brittle bush flowers. Some take nectar, some bees also gather pollen, while still others feed on the petals, pollen and developing seeds. Click on the thumb images to read more about these organisms.
Asteraceae -- Sunflower Family
More Information: