Observed in the Ajo Mountains of southern Arizona in Pima County, April 2010 when few flowers had yet opened.
FRUIT: Usually five distinct segments each containing a single-seed develop from one flower and have a long, tapering styles. This structure is the basis for the common name, heron's bill.

ANNUAL: Mat forming annual of mid to late spring. Size and robustness dependant on winter-spring rainfall. Occasionally surviving year to year in protected spots at higher elevations.

RANGE: Fairly common at mid to upper elevations and occasionally in lowest desert areas. Found from California east to Texas and into Mexico.

FLOWERS: Five, pink petals on flowers usually less than 1cm in diameter. Several flowers in an umbel arrangement.

LEAVES: Triangular to heart-shaped with one or three broad lobes and additional shallow, rounded lobes along margins. Prominent, reddish veins and distinct geranium odor when crushed.

UNARMED. Thornless.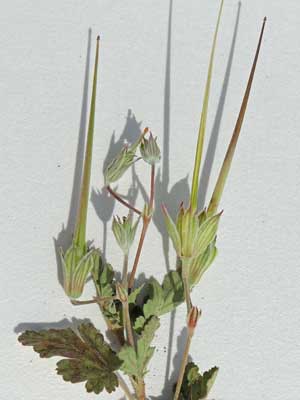 Geraniaceae -- Geranium Family
Sponsored Links:
More Information: