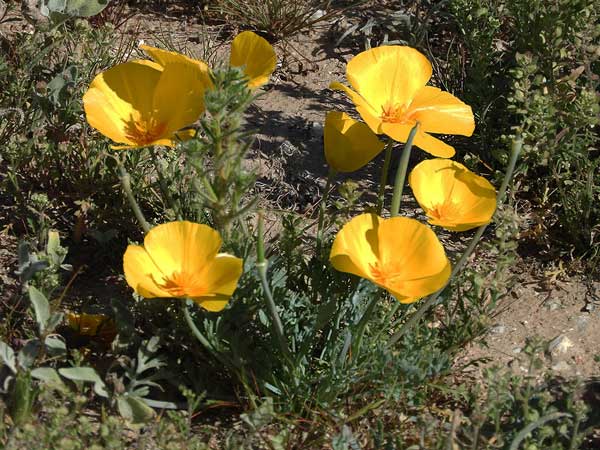 North Maricopa Mountains, Maricopa Co., Arizona. 27 Jan. 2019.
Sponsored Links:
ANNUAL HERB: In the Sonoran Desert great shows of this poppy are dependent on an abundance of winter rains during Nov-Feb. Most years a few spotty flowers can be found but in drought years nary a one.

LEAVES: Finely dissected leaves appear compound and are glabrous (smooth, without texture/hairs).

RANGE : Upper and Lower Colorado Sonoran Desert particularly on flats and gentle bajada slopes. Texas to California and Mexico. Picacho Peak, Arizona is a well-known location to see great expanses of spring poppies after wet winters.

FLOWERS : Bright golden, yellow-orange, with five petals, and with numerous stamens. Occasionally paler yellow or even white blooms can be found. Blooming mostly Feb-Apr. The green sepals that cover the bloom before opening form a cap over the developing bud and are shed as a unit when the flower opens.

Papaveraceae -- Poppy Family
More Information: