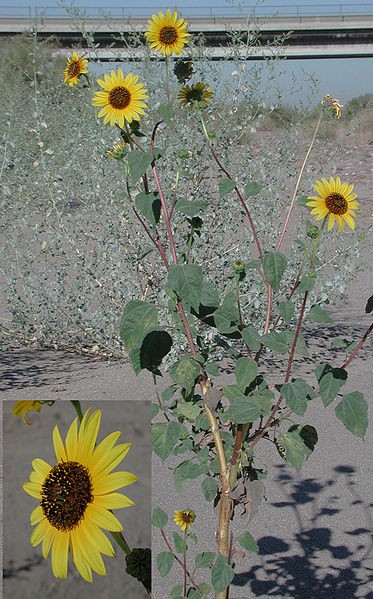 Photographed in the bed of the Gila River near Goodyear, Maricopa Co., Arizona, USA on 11 Oct. 2007. This photo is also hosted on the Wikimedia Project at higher resolution.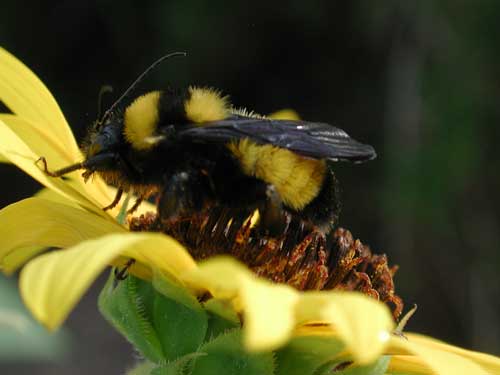 ANNUAL: Annual Sunflower can sometimes survive in the Sonoran Desert for more than a year if moisture and lack of killing frosts are favorable. With good moisture plants can exceed 2 m in height. Branching freely.

LEAVES Leaves simple, broadly elyptic, and sandy-textured. The stems also feel rough to the touch due to stiff hairs.

RANGE: Most abundant at roadsides and areas surrounding agricultural areas. Frequent as well in riparian situations and ranging into high elevations. This plants is found throughout North America.

FLOWERS: Medium-sized yellow sunflowers - rays yellow and disc florets brownish yellow. Flowering from mid spring until a killing frost arrives.
Birds and insects of many kinds use annual sunflowers as a food source. Many kinds of bees and flower-loving flies are attracted to the flowers. Rover Ants and others take nectar secretions and may work to protect the plant. A large leafhopper, the Smoketree Sharpshooter, and lace bugs take sap from the phloem tissue.Click a thumbnail for more information about these sunflower associates.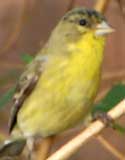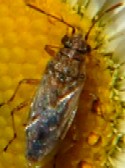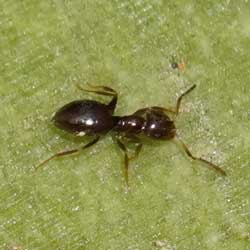 Asteraceae -- Sunflower Family
Sponsored Links:
More Information: