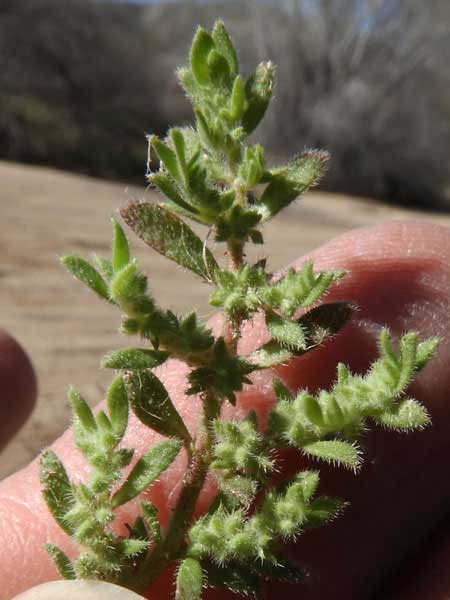 Photographed near Mesquite Wash, e. Maricopa Co., Arizona. March 30, 2008 and again 2 Feb. 2020. This photo has been added as well in full resolution to Wikimedia Commons
Sponsored Links:
ANNUAL: A small annual of spring growing prostrate on soil typically spreading to less than 20 cm across.

LEAVES: Leaves are elliptic, opposite on the stem and covered with ashy hairs. The stems and flower sepals are likewise beset with hairs.

RANGE: An introduced weed that is apparently still spreading into new areas in the Sonoran Desert. Common near washes, disturbed sandy soils, and in urban settings - often growing from cracks in pavement.

FRUIT: Minute capsules containing a single-seed.

FLOWERS: Numerous, minute green flowers without petals in clusters.

UNARMED: Thornless.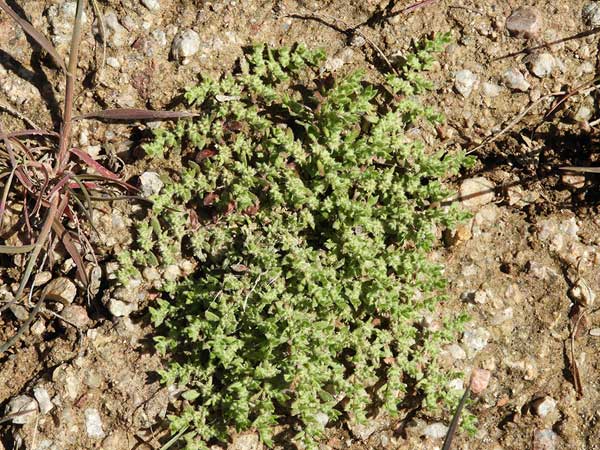 Caryophyllaceae -- Pink Family
More Information: