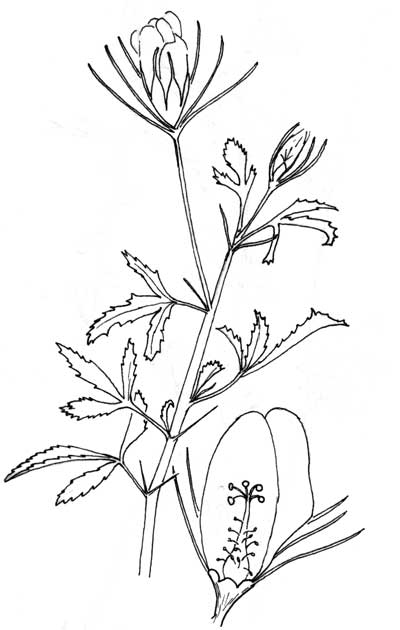 Sketched from live specimen observed in the Growler Mts., Pima Co., Arizona. 27 March 1993. Lower right, cut-away view of flower showing the stamen column.
FLOWERS: Showy five-petaled flowers with five linear sepals below petals. Petals are pale yellow often with a maroon central spot on each. Stamens fused into a tube. Rising from the center of the column is a five-branched stigma with burgundy-red tips.

SHRUB: Several perennial, slightly woody stems rising to about a meter in height. Leaves deciduous with frost or drought.

LEAVES: Palmately divided into three to five segments with course teeth on margins. Stems and leaves are covered with stiff, forked hairs, which provide a course texture.

RANGE: Occasional on rocky bajadas and sometimes high on wash banks in the Sonoran Desert mostly above 600 m elevation.

FRUIT: A shizocarp - ovary splitting, but not readily, at maturity into single-seeded segments.

UNARMED.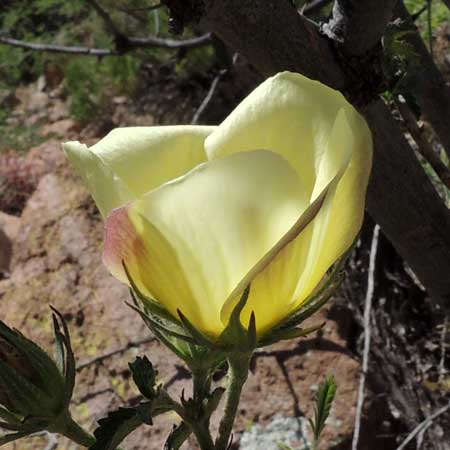 Observed at White Canyon Wilderness, Pinal Co., Arizona, USA, on 31 March 2014.
Family: Malvaceae
More Information: