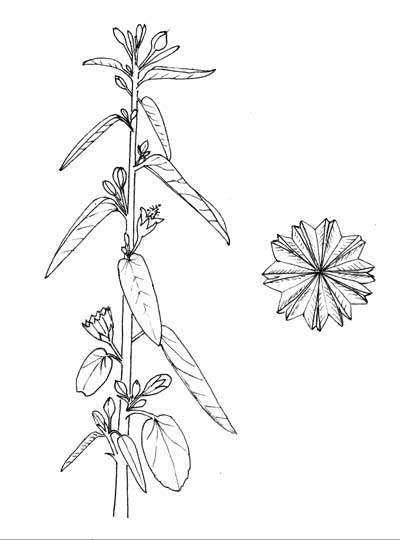 Sketched from specimen observed at South Mountain, Maricopa Co., Arizona. 12 April 1993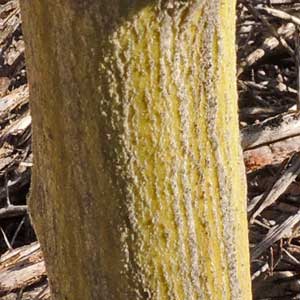 Detail of trunk and bark, White Tank Mts., Maricopa Co., Arizona. 10 Oct. 2015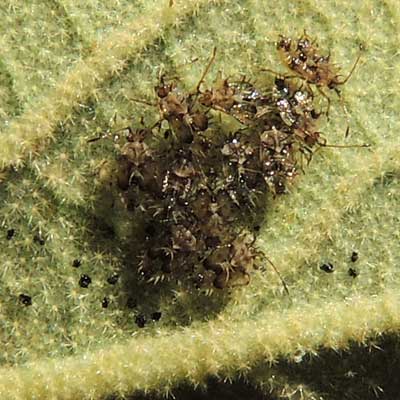 A cluster of Lace Bug (Corythucha) nymphs on the underside of a leaf. White Tank Mts., Maricopa Co., Arizona. 10 Oct. 2015. The stellate (star-shaped) hairs can be seen in the close-up view.
SHRUB: Often with a single woody stem reaching 2 meters tall. The surfaces of mature stems are green-photosynthetic, below left.

LEAVES: Thick, velvety leaves are elliptic to wedge-shaped and have a yellow-green cast. The felty texture is due to star-shaped hairs. Peculiar, disagreeable odor when crushed.

RANGE: Mostly uncommon on rocky bajadas at lower elevations in the Sonoran Desert. Frost sensitive, thus restricted to warmer regions.

FRUIT: A shizocarp consisting of ten or so carpel segments that split open separately revealing seeds. Shown enlarged in the illustration. Eventually each segment separates from the axis with the walls flaring to form little sails to carry the seed away (below).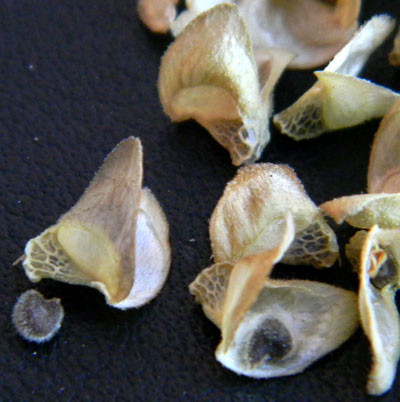 The fruit finally divides into a number of segments with dry papery wings. Hedgepeth Hills, Maricopa County, Arizona, USA, May 2011.
FLOWERS: Rather small, yellow to orangish, five-petaled mallow flower.

UNARMED.
Malvaceae -- Mallow Family
Sponsored Links:
More Information: