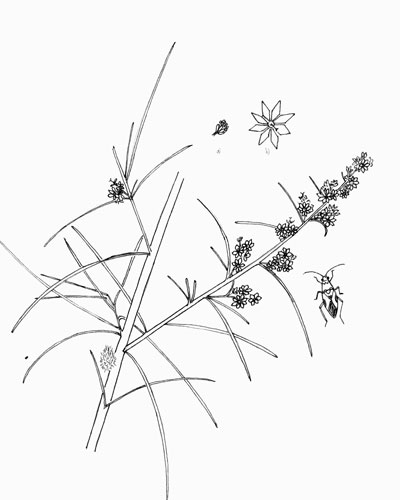 Sketch made from live specimens at Castle Hot Springs, Yavapai Co., AZ 12 Oct. 1992. a) Staminate (male) flower head, b) solitary, pistalate (female) flower, c) Seed Bug, Lygaeus kalmi.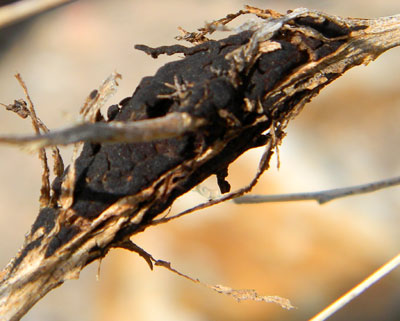 Observed at Garfias Wash, Hells Canyon, Yavapai Co., Arizona. March 2011. This fungal growth, possibly a Uredinales, has burst through the bark of a woody stem of Burrobrush. The dense populations of this plant resulting from heavy grazing pressure may foster spread of pathogens.
FLOWERS: Many short spikes of yellow (due to copious pollen) male and female flowers. Male heads are several-flowered while the female flower heads have usually just one floret. A series of flattened wings developes from the involucre and ring each seed (shown enlarged at upper right in illustration).

SHRUB: Medium to large shrubs may be 1 to 3 meters tall, often forming thickets.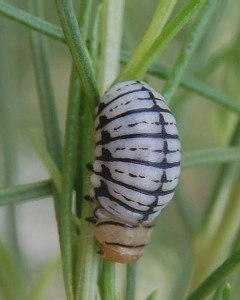 LEAVES: Linear, almost thread-like leaves.

RANGE: Common to abundant in washes in the Sonoran Desert, especially where over-grazing by cattle has been practiced.

PAPPUS: (crown at apex of achene) none.

UNARMED.
Many insects are able to get past the chemical defenses that deter grazing cattle. Among these are a leaf beetle, Leptinotarsa lineolata. The black and white banded larva (see image at right) are easily found on the plants by late summer. The adult beetles are green and beige with broken longitudinal stripes.
Asteraceae -- Sunflower Family
Sponsored Links:
More Information:

Warty Leaf Beetle