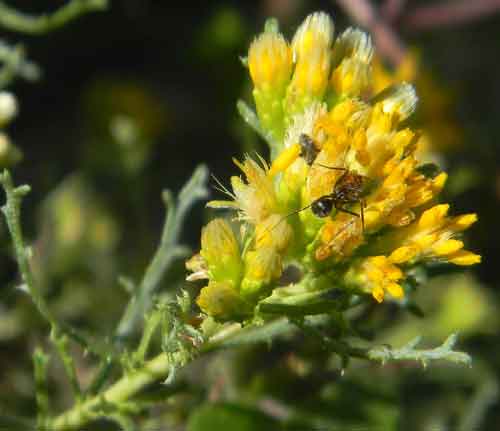 Photographed at Proctor Road and Madera Canyon, Pima Co., Arizona. 10 Sep. 2010.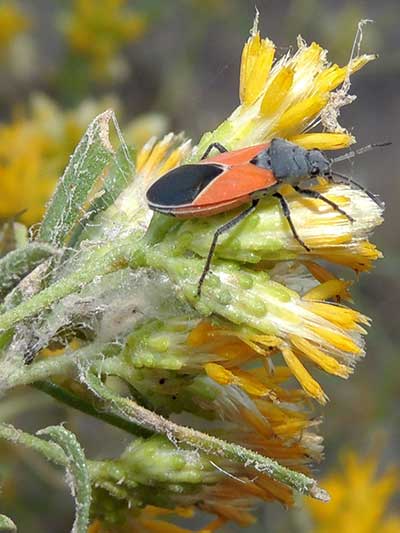 Red-Coat Seed Bugs are among the insects that feed on the flower heads developing seeds. Superior, Pinal Co., Arizona. 24 Sept. 2017.
SHRUB: Medium-sized shrub mostly less than one meter tall with many stems from base.

LEAVES: The leaves are mostly narrow to slightly oblong and many have a few narrow lobes extending at right angles. They are not resinous.

FLOWERS: Yellow flowers in loose discoid heads, i.e. there are no rays and up to a dozen narrow disc florets. They bud and open after the summer rains and into the autumn.

RANGE: Southeastern portions of the Sonoran Desert in Arizona and extending into the Chihuahuan Desert and northern Mexico. Not found in the Phoenix area where Alkali Goldenweed replaces it. In Pinal Co. and elsewhere both may be found.

FRUIT: Achenes are topped with a pappus of fine bristles.

UNARMED. Thornless.
Asteraceae -- Sunflower Family
Sponsored Links:
The flowers, which appear in late summer or fall, are attractive to many kinds of insects including wasps, bees, butterflies and flower-loving flies:
Notocyphus dorsalis

Euodynerus pratensis

More Information: