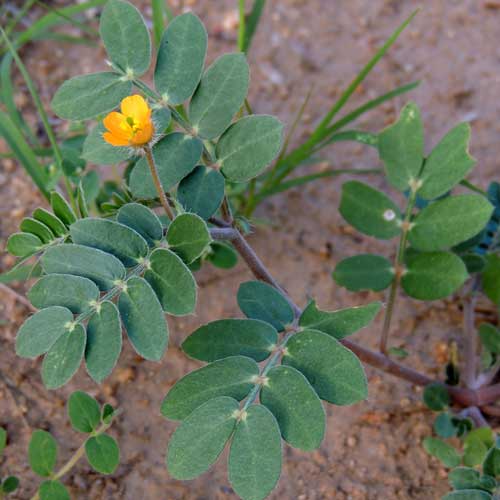 Blooming at Mesquite Wash, eastern Maricopa Co., Arizona, USA on 4 Aug. 2013.
Sponsored Links:
ANNUAL HERB: Warm season annual germinates after onset of summer rains. Low growing and often prostrate.

LEAVES: Dark green, compound leaves with an even number of leaflets. The leaves are alternate on the stems. Leaves are sparsely long-pubescent.

RANGE: Sonoran Desert and distributed west into the Mojave Desert and east into the Chihuahuan Desert. Often in soils adjacent to canyon washes.

FLOWERS: Small flowers roughly 10 mm dia. Orange-yellow, five-petalled with ten stames. July to Sept.

UNARMED: Unlike puncture vine, the seeds do not have sharp spurs.

FRUIT: The spherical fruit is small, eventually breaking into several segments (schizocarp), and has an elongated central portion derived from the style.
Zygophyllaceae -- Caltrop Family
More Information: