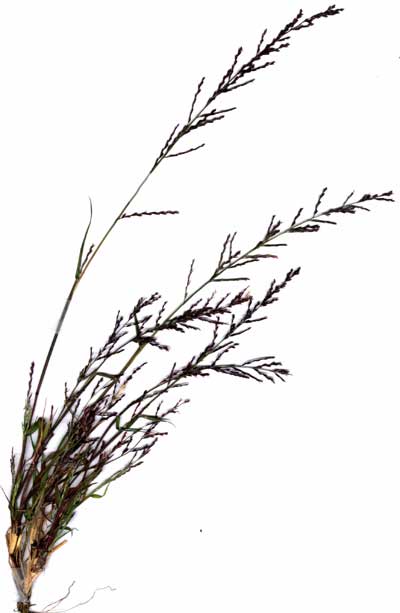 This image of Red Sprangletop, Leptochloa panicea brachiata, found in the New River Mountains along Camp Creek, Maricopa Co., Arizona, USA on 7 Nov. 2010 was created using a flat-bed scanner.

ANNUAL GRASS: Normally a small to medium-sized grass rarely taller than 20 cm in the Sonoran Desert. Plants more robust under prolonged, moist growing conditions. Several stems rising from a weak root system. Blooming after monsoon season in autumn months.

RANGE: Can be found in recently flooded washes and riparian corridors as the soil dries. Occasional at margins of agricultural, highways, and in moist, weedy areas.

LEAVES: Leaf blades are medium (mostly < 15 cm long) and a few mm wide. Leaves and inflorescence may appear reddish or purple, esp. as late-season cool temperatures set in.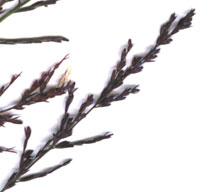 SPIKES: Slender lateral branches many, each a spike of spikelets and each spikelet with 2 to 4+ florets. Glumes and lemmas without awns.

UNARMED
Poaceae -- Grass Family
Sponsored Links:
More Info: