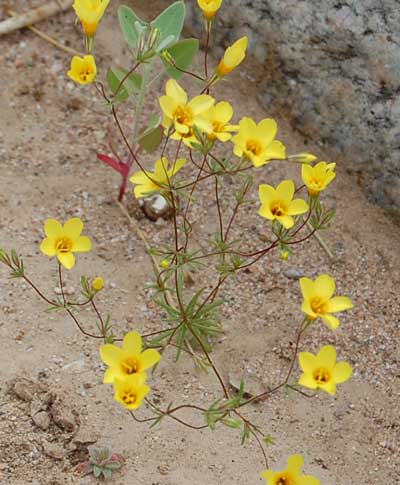 Photographed along Mesquite Wash, Maricopa Co., Arizona. March 2008.
FLOWERS: Golden yellow petals, five in number, fused into an open funnel-shape. Small, aranged in loose panicles on slender, v. slender peduncles. Mid spring in moist, sandy or gravelly soils. Five stamens and style 3-parted.

ANNUAL: A delicate herb of spring time in the Sonoran Desert. Mostly about 15 cm tall.

LEAVES: Leaves appear linear and whorled on stems, but are opposite, compound with linear segments and v. short absent petiole.

RANGE: Spotty distribution in the Sonoran Desert along sandy washes. Present only in years with adequate winter rains.

FRUIT: Dry, spherical capsule.

UNARMED. No spines/thorns.
Polemoniaceae -- Phlox Family
Sponsored Links:
More Information: