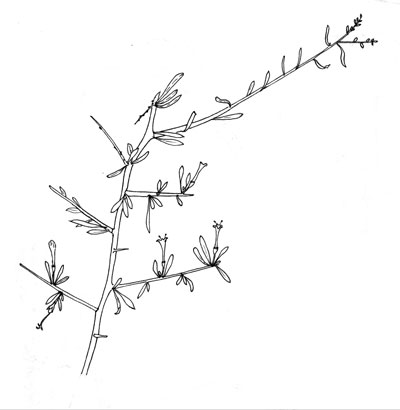 Anderson's Wolfberry, Lycium andersonii, drawn from specimen observed at the KOFA Mountains, Yuma Co., Arizona on 15 March 1993.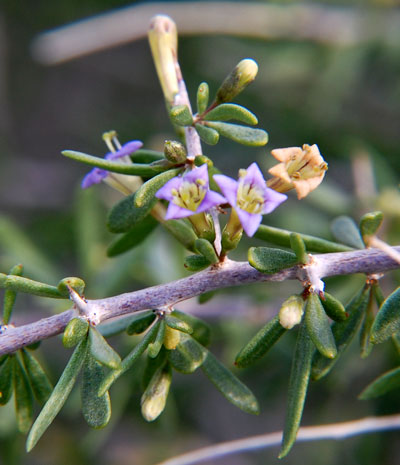 Anderson's Wolfberry, Lycium andersonii, observed blooming in the Maricopa Mts., Arizona, USA on 06 March 2010.
Sponsored Links:
FLOWERS: Small tubular flowers are whitish with short purple-tinged lobes. Flowering from February to April brings in many Honey Bees (Apis mellifera). The green calyx below the petals is glabrous, i.e. free of sticky hairs.

FRUIT: Bright orange-red berries with flavor of tomatoes containing a number of small seeds.

LEAVES: More-or-less linear leaves are ½ to 2 cm long and usually thickened. The leaves are smooth to slightly roughened.

SHRUB: A medium to large shrub with rigid branches and not-so-sharp thorns.

RANGE: Common along washes and arroyos that cut through bajadas. May be present with one or more other species of Lycium.

ARMED: The mostly sparse thorns are not particularly sharp on most specimens.
Solanaceae -- Nightshade Family
More Information: