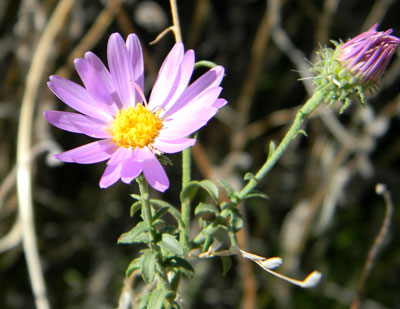 Photographed near Cave Creek, Spur Cross Ranch, Maricopa Co., Arizona. November 2010.
Sponsored Links:
RANGE: This is the common purple aster of upper elevations in the Sonoran Desert blooming in late spring or more often in the fall. Often in areas adjacent to riparian habitats. Many variations of this species (leaves, hirsuteness, flower size) range from Montana to Arizona and Texas and into Mexico.

FLOWERS: Many rays of light or darker purple florets and a disc of central yellow florets. Phyllaries in several series enclosing the flower head. Tips are pointed, but not spine-tipped. Blooming mostly in fall and sometimes in spring and summer months.

LEAVES: Upper leaves usually toothed and the lower ones dissected into narrow segments.

ANNUAL OR BIENNIAL: Herbaceous plants occasionally taller than one meter. Plants may survive through mild winters and regrow the following year once more.

FRUIT: The slightly flattened seeds are topped with a pappus of fine whitish bristles.

UNARMED.
Asteraceae -- Sunflower Family
More Information: