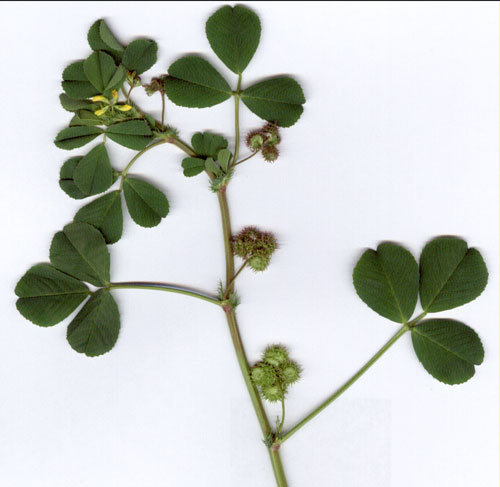 Photographed in a vacant lot in Phoenix, Maricopa Co., Arizona. 06 March 2008.
ANNUAL: Winter dormant Bermuda grass lawns often have dark green patches of Burclover, particularly if there have been winter rains and no seeding for winter rye-grass. This winter and spring weed can also be found in vacant lots and around agricultural areas.

FRUIT: A small bean pod with one or a few seeds that coils and is beset with hooked projections, i.e. it forms a bur. Mature pods might catch in socks or cuffs.

FLOWERS: Bright yellow pea-flowers are small.

LEAVES: Leaves are triplet compound and resemble those of other clovers and alfalfa (Medicago sativa).

RANGE: Frequent throughout urban and agriculture areas in the Sonoran Desert in Arizona.

UNARMED: Slight prickles on bean pod.

Fabaceae -- Bean Family
Sponsored Links:
More Information: