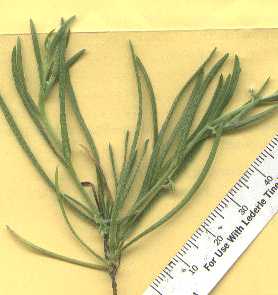 Scanned live specimen found at Phoenix, Arizona, Jan. 19, 2003.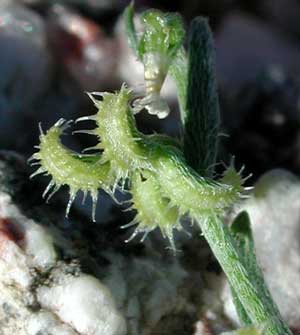 Enlarged view of four nutlets forming a bur. This image is available at Wikimedia Commons.
This is one of the most abundant of the desert wildflowers in Arizona. It mostly goes unnoticed, however, because it is so small. The specimen illustrated at left has a single open bloom, 1 mm across, with 5 petals - barely visible at upper right. The curious fruits are four nutlets ... each segment is a single seed encased in a carpel that has a dissected, barbed margin. A mature fruit can be seen near the main central stem of this specimen. There are several other very similar species of Pectocarya.
SPRING ANNUAL: Ephemeral spring annual appearing in the Sonoran Desert late Dec. to early April depending on moisture.

FLOWERS: Minute, five-petaled, white flowers in small clusters.

FRUIT: Four re-curved nutlets with bur-like appendages.

LEAVES: Linear and grass-like.

STEMS: Entirely herbaceous and ephemeral usually less than 10 cm tall.

RANGE: Common across the Sonoran Desert on rocky slopes and flats.
Boraginaceae -- Borage Family
Sponsored Links: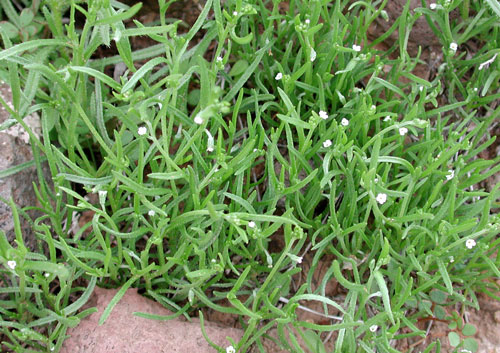 Often dozens and dozens of plants grow together looking like grass until the minute white flowers are seen. Hedgepeth Hills, Maricopa Co., Arizona. February 2008.
More Information: