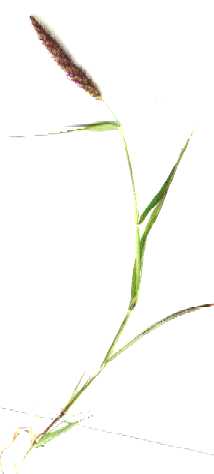 Image made using a flat-bed scanner from specimen found in Phoenix, Maricopa Co., Arizona. 19 January 2003.

PERENNIAL HERB: Weedy invasive grass. Continues to grow new shoots from the root stock for several seasons. Forms tussocks.

LEAVES: About 0.5 cm wide.

STEMS/CULMS: A half meter to a full meter tall. Noticeably less robust than the related fountain grass.

FLOWERS: Spikes are 10 cm tall and about 1 cm in diameter. Long reddish to purple awns crowded along inflorescence.

RANGE: Spreading relentlessly into Sonoran Desert habitat, especially onto rocky slopes near cities and towns. Crowding out native grasses and herbs and creating a fire hazard that could destroy nearby forests of saguaro cactus. Because buffel grass regrows after fire a repeating cycle of fire is possible, significantly altering Sonoran Desert habitats.


With the idea of controlling the rampant erosion problems created by overgrazing of cattle, the U.S. Soil Conservation Service promoted and distributed this grass from its original home in Africa.

In January 2008 a Painted Bunting (Passerina ciris) was found wintering along the Salt River in Phoenix, Arizona. There it was subsisting partly on seeds of Buffel Grass. Elsewhere it is known to feed on seeds of Plains Bristlegrass (Setaria leucopila). In Oct. 2009 I found Narrow Stink Bug (Mecidea sp.) feeding in a developing seed spike.
Poaceae -- Grass Family
Sponsored Links:
More Info: