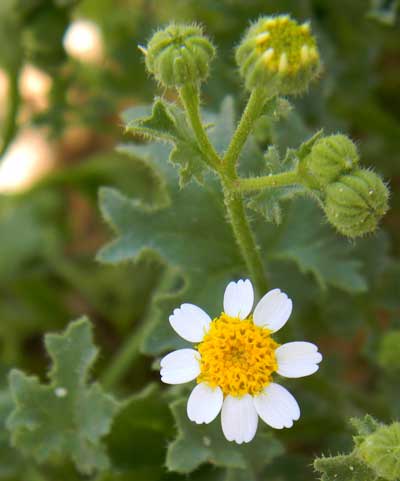 Observed at South Mountain Park, Maricopa Co., Arizona, USA. April 2010.
ANNUAL or PERENNIAL HERB: A mostly small plant that grows often in steep rocky places. Some woody tissue may be present at the crown, but otherwise the plant is fleshy-herbaceous.

FLOWERS: Short white rays surrounding bright yellow disc on daisies that are usually less than 2 cm diameter. Flowering mostly March to May.

RANGE: In Arizona Upper & Lower Sonoran Desert generally on rocky slopes and below cliff faces. May become more abundant and conspicuous in wet years. Blooming mostly in spring but also sporadically throughout year.

FRUIT: A dark flattened seed with a weak crown of a few scales or a bristle.

UNARMED: No thorns or spines.
Asteraceae -- Sunflower Family
Sponsored Links:
More Information: