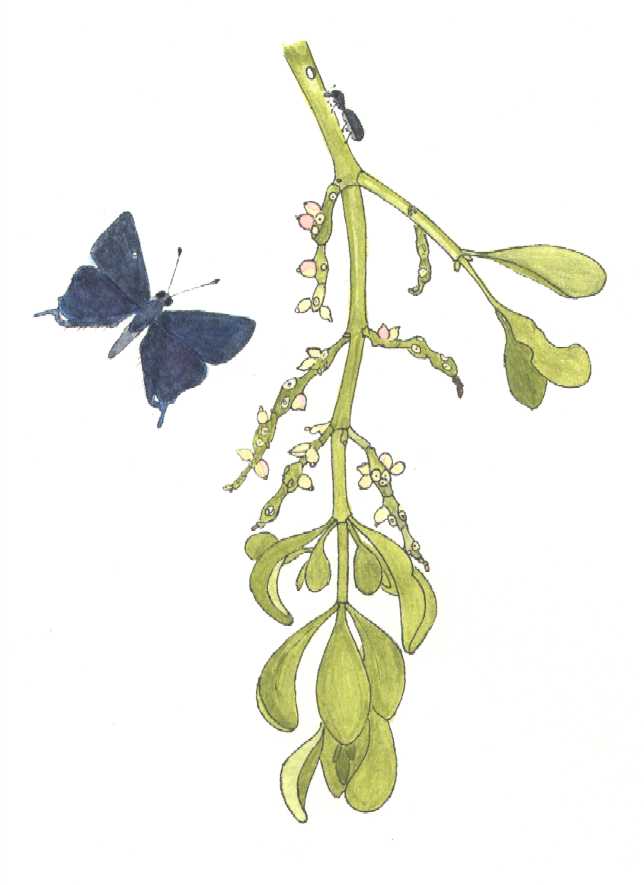 Painted from specimens found at Catalina State Park, Pima Co., Arizona. 27 March 1994.

PARASITIC SHRUB: Grows from the branches of mostly the larger deciduous trees such as cottonwood, ash, walnut, and hackberry. Draws water, minerals, and nitrogen nutrients from the host, but carries on its own photosynthesis.
LEAVES: Thick, leathery, velvety leaves are typically whorled; three to a node.
FRUIT: White berries occur in terminal spikes.
FLOWERS: small and inconspicuous but fragrant.
UNARMED.
The larva of a weevil (curculionidae) may be found boring into the fleshy stems. The adult weevil is black with numerous fine white hairs. Hollowed out mistletoe branches often die or break off.
Viscaceae -- Mistletoe Family
Sponsored Links:
More Information: