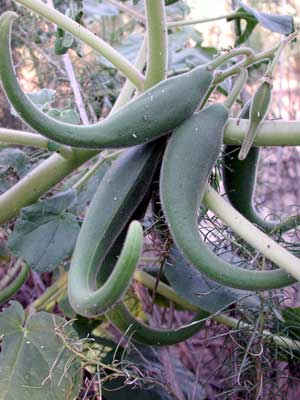 These photos were taken at Mesquite Wash, Four Peaks foothills, Maricopa Co., Arizona. The okra-like fruit when dried become the familiar devil's claws.
The Unicorn Plant, or Devil's Claw, grows in sandy bottom lands across the Sonoran Desert of Arizona and Sonora. Once the fruits have matured they split lengthwise and curl. These dried fruits easily catch in the fur or around the ankles of animals thereby having their seeds widely dispersed. A perennial with an enlarged, thickened taproot.
When young, the fruits can be boiled and eaten like okra. Upon drying, a very black fiber can be extracted from the fruits and has had an important roll in basket weaving.
Martyniaceae or Pedaliaceae -- Sesame Family
Sponsored Links:
More Information: