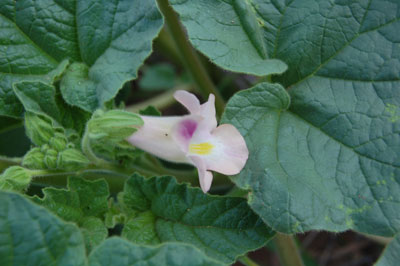 This plant was obseved growing along Camp Creek east of Carefree, Arizona, Maricopa Co., Arizona Aug 30, 2008.
Sponsored Links:
Generally an annual without a thickened taproot. Their are two varieties Unicorn Plant, or Devil's Claw found in the Sonoran Desert. Both tend to grow in sandy soil near washes and in canyons. The other species, Devil's Claw (Proboscidea altheaefolia) has yellow flowers. Once the fruits have matured they split lengthwise and curl. These dried fruits easily catch in the fur or around the ankles of animals thereby having their seeds widely dispersed.
When young, the fruits can be boiled and eaten like okra. Upon drying, a very black fiber can be extracted from the fruits and has had an important roll in basket weaving.
Martyniaceae or Pedaliaceae -- Sesame Family
More Information: