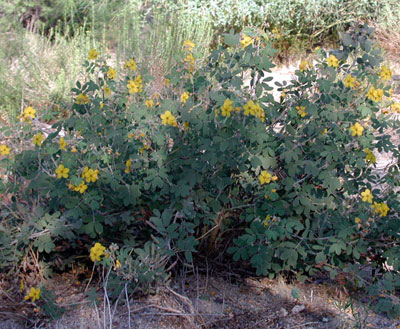 Photographed near Piestewa Peak, Phoenix, Maricopa Co., Arizona. Aug. 31, 2003

Sponsored Links: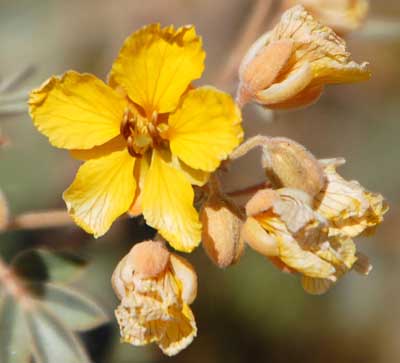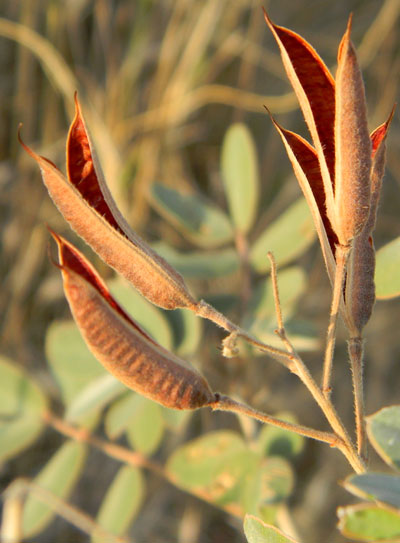 SHRUBBY: Very little or sometimes no above ground woody parts. Rarely over 50 cm tall.

FLOWERS: Showy, five petaled flowers occur mostly after spring and summer rains but also sporadically throughout the year.

LEAVES: Compound leaves have 5-7 large, oblong, velvety leaflets.

FRUIT: Slightly hardened, bean-shaped capsules split lengthwise from the tip and are oriented upright. The seeds are thus held inside the open pod until the pod is bounced by the wind or passing animals.

RANGE: This plant is most abundant along roadsides and in washes. It is fairly common throughout the Sonoran Desert and is widely planted by landscapers and as part of roadside wildflower programs.
The caterpillar of the Cloudless Sulfur (Phoebis sennae) and Sleepy Sulfur (Eurema nicippe) butterflies can be found feeding on the leaves and and the adult butterflies are often encountered flying nearby.
Family: Fabaceae
More Information: