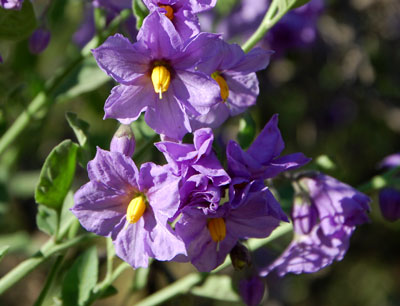 Photographed in Rackensack Canyon, New River Mts., Maricopa Co., Arizona. May 2009.
Sponsored Links:
FLOWERS: Abundant and showy deep purple-blue flowers with five, yellow stamens appear in mid to late spring (mostly April & May). The yellow stamens visible in the photograph are shaped like tall narrow vases with pore openings at the apex. Specialized bees access the pollen by 'buzzing' and thus vigorously shaking the vases. The pollen grains bounce out of the top pores and are gathered on the setae (insect hairs) of the bee.

RANGE: Locally common in the higher elevations of the Sonoran Desert in Arizona mostly along the northern reaches and westward into California. As its name implies it is more typical of chaparral or Piñon/Juniper habitats.

LEAVES: Lance-shaped to triangular with sometimes a pair of lobes near petiole. Dark green. The amount of pubescence and stickiness varies between populations.

FRUIT: Berries. Green to dark blue-purple when ripe. Toxic.

PERENNIAL: Re-grows year after year from underground stems and attains shrubby form under ideal conditions. Much branched, herbaceous growth in the Sonoran Desert rarely exceeds one meter.

UNARMED: No spines.
Solanaceae -- Nightshade Family
More Info: