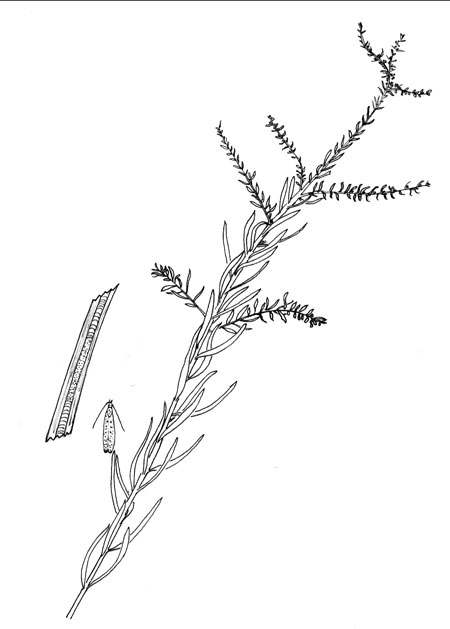 Drawn from live specimens found along the Gila River near Buckeye, Arizona. 29 Aug, 1993. a) cut away view of stem with gallery, b) a pyralid moth was reared from the caterpillar found in the gallery.
RANGE: Found across the Sonoran Desert but only in locations that are periodically flooded as along rivers or in poorly drained basins. Margins of agricultural areas. Preferred soil often alkaline or saline.

LEAVES: Thick, fleshy leaves are linear to slightly spatulate. Leaves may change to orange, red or even purplish with cold or drought.

FLOWERS: Small, green flowers in branching spikes at the top of the stems.

SHRUB: Slightly woody shrub, 1 to 2 meters tall. Young stems often reddish-green.

FRUIT: Very small capsules containing one seed each.

UNARMED.No spines.
In the illustration at left, one of the main stems is shown in linear-section revealing the hollowed-out pith. The adult moth shown emerged after the larva completed metamorphosis.
Chenopodiaceae -- Goosefoot Family
Sponsored Links:
More Information: