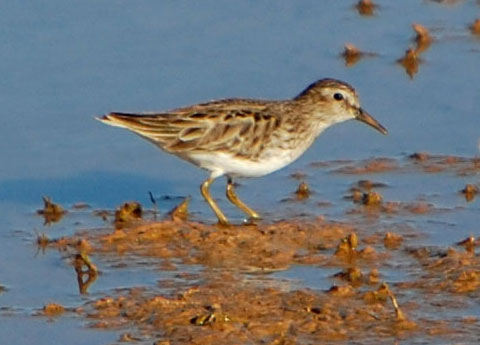 This Least Sandpiper was photographed at the Gilbert Riparian Preserve, Gilbert, Arizona, 14 Feb. 2009. The group at right was seen in Glendale, Arizona. Oct. 2018.
These tiny sandpipers poke along the edges of ponds, rivers and marshes, generally in the open and in groups of a dozen or more birds. Indeed they are the smallest of sandpipers being less then 15 cm in length. Distinguishing characteristics are the pale legs and straight bill. The similar Western Sandpiper is found in the Sonoran Desert, usually only during fall and spring migrations and has dark legs and a heavier, slightly downturned bill. Two other sandpipers sometimes are found in the Sonoran Desert, Baird's and Semipalmated, during spring or fall migration.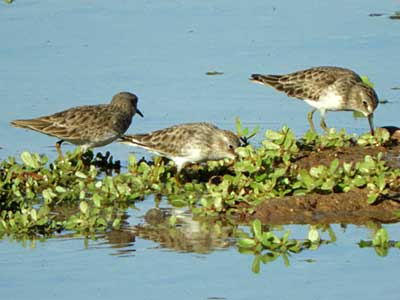 Called peeps because of the high-pitched calls given as a flock flies from one shore spot to another. Come summer they will breed in the high Arctic, a habitat very different than the Sonoran Desert. In both cases they feed mostly on larvae of insects such as chironomid midges.
Winter Resident - Returns to Northern States and Canada for Breeding in Summer
Sponsored Links:
More Information: