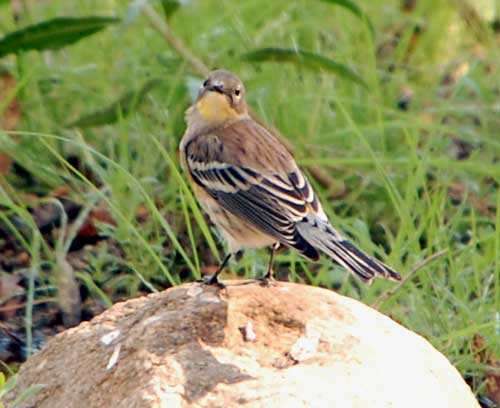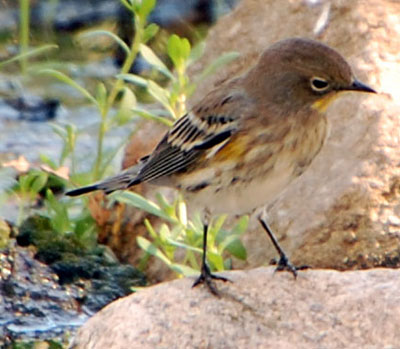 This Yellow-rumped Warbler was photographed at Mesquite Wash, in Maricopa Co., Arizona on Oct. 24, 2009.
Most warbler species fly much further south than the Sonoran Desert for the winter months; they move through in great numbers heading south in August and September and then returning north in April and May. Yellow-rumped Warblers on the other hand are common winter birds in the Sonoran Desert, mostly in riparian habitats, near lakes and in irrigated farmland and gardens. They are dependent on insect prey and take many adult midges (small mosquito-like flies common near water). They also take small berries, sugar from hummingbird feeders, and buds from trees and shrubs. They flee the hot summer temperatures of the Sonoran Desert heading to places like Montana and Saskatchewan.
The yellow patch on the rump, just above the tail, is often concealed by the wings when the bird is perched. Watch a perched bird carefully as it takes off and the bright yellow patch becomes visible. There are small patches of yellow on the chin and on the shoulders. Otherwise, most winter yellow-rumps are rather drab. They call frequently to each other as they forage for food in trees and bushes. Bird watchers are keen to look through these roving groups of yellow-rumps, because occasionally a less common or rare warbler will be foraging right along with them.
Mostly Late Fall, Winter and Spring - migrates to northern latitudes for summer
Sponsored Links:
More Information: