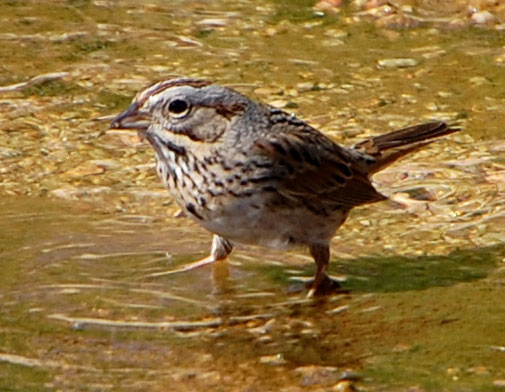 Several Lincoln's Sparrow were feeding in and near shallow water along Mesquite Wash in the Mazatzal Mountains of Maricopa Co., Arizona, Feb. 2011.
Only during the late fall to early spring months will Lincoln's Sparrow be commonly found in the Sonoran Desert. In general they prefer moist habitats that are rather restricted in the Sonoran Desert. Look for them near irrigated agriculture or along riparian streams, particularly where dense thickets of vegetation have grown.
The chest is streaked over a light buffy background. The tail is shorter than that of the similar song sparrow and the gray streak above the eye is wider and more distinct.
Mostly Winter Resident - migration from the northern portions of North America
Sponsored Links:
More Info: