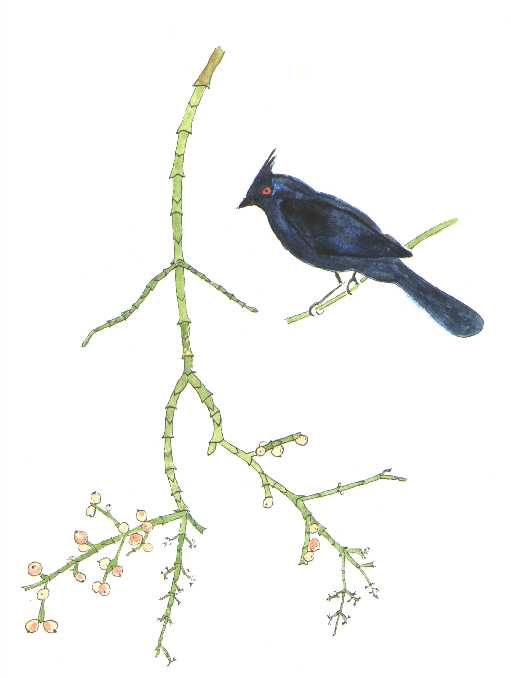 Watercolor from specimens found in the Castle Dome Mountains, La Paz County, Arizona on 23 Feb. 1992.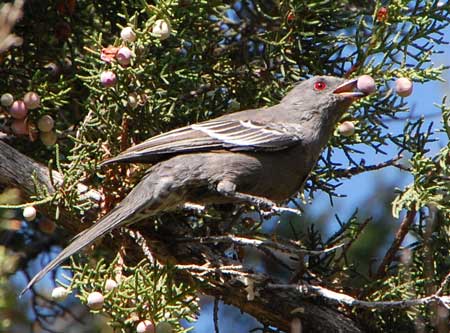 When mistletoe berries are scarce phainopeplas will switch to alternate food sources. This female is eating red-berry juniper berries near Camp Creek in n.e. Maricopa Co., Arizona. Oct. 2009.
The biology of Desert Mistletoe and the Phainopepla in the Sonoran Desert are intricately linked. The berries of mistletoe ripen in late spring and are voraciously eaten by these crested birds with conspicuous red eyes. As the birds feed occasionally a sticky seed adheres to the bill only to be scraped off onto the branch of a potential new host. Some seeds also remain viable after passing through the bird's digestive tract, a process taking less than an hour. Once deposited onto a branch the seeds may germinate and initiate a new parasitic relationship with a host plant. Male phainopeplas are glossy black whereas the females are dark gray. They are roughly the size of the familiar cardinal, but have a more upright and slender posture.
In summer phainopeplas change their feeding behavior as they move up slope to cooler elevations. They become then mostly insectivorous capturing especially insects on the wing. Phainopeplas belong to a small, but unique group of tropical birds knows as Silky Flycatchers.
At Organ Pipe Cactus Monument on 03 Feb. 2017 I observed a group of five males hovering and kiting back and forth high above the ground above a clearing. They were up at least 200 m and were calling softly as they continued this behavior formation for close to 10 minutes. I took it to represent a sort of male lek-mating behavior.
Year-round Resident with Elevational Movement
Low Deserts Late Fall thru Spring & Upper Sonoran and Mountains in Summer
Sponsored Links: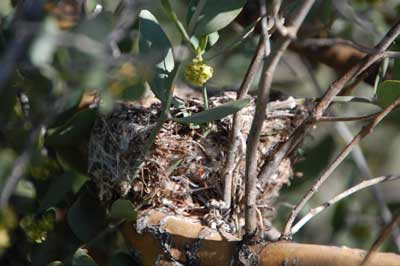 This phainopepla's nest was found in April 2009 along Camp Creek northeast of Carefree, Arizona. A male phainopepla was actively working to put the finishing touches on its construction. It is nestled upon a Foothills Palo Verde branch and jojoba foliage is also visible.
More Information: